Contribution by our members. Thank you!
The World Health Organization
Published online: 25 February 2015
Overview / Resumen: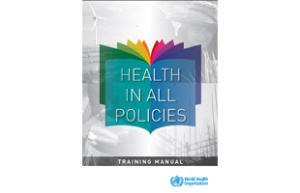 The World Health Organization (WHO) calls on enhanced global efforts to improve health in some of the world's poorest and most vulnerable communities by tackling the root causes of disease and health inequalities. In order to address this and to spur up action, raise awareness and facilitate implementation of a Health in All Policies (HiAP) approach WHO launched this week a Health in All Policies training manual.
This manual is a training resource to increase understanding of the importance of Health in All Policies among health and other professionals. The material will form the basis of 2- and 3-day workshops, which will: build capacity to promote, implement and evaluate HiAP; encourage engagement and collaboration across sectors; facilitate the exchange of experiences and lessons learned; promote regional and global collaboration on HiAP; and promote dissemination of skills to develop training courses for trainers.
Read the manual / Lea el manual: English
Learn more / Sepa más: Further information, infographics, feature story, and key messages in several languages are available at click here.
Keywords / Palabras clave: Health Policy, Health Status Disparities, National Health Programs, Teaching Materials