Contribution by our members. Thank you!
The World Health Organization – Regional Office for South-East Asia. New Delhi; 2015
Overview / Información General: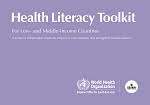 This series of information sheets introduces health literacy, its relevance to public policy, and the ways it can be used to inform the promotion of good health, the prevention and management of communicable and noncommunicable diseases, and the reduction of health inequities. It provides information and links to further resources to assist organizations and governments to incorporate health literacy responses into practice, service delivery systems, and policy. This publication seeks to inform: governments, politicians and policy makers at all levels; academic institutions; public, civil society, and non-governmental organizations; and practitioners; relevant private sectors promoting health and well-being; communities, community-based organizations and social networks; WHO and other UN partners and development organizations.
Keywords / Palabras clave: Health Literacy, Public Policy, Health Promotion, Social Determinants of Health, Health Information Systems.
Download this publication / Descargar la publicación: click here.