Book. Public Health Ethics Analysis. Volume 32016
Published online: April 2016
Abstract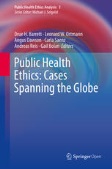 This book, published by Springer as part of its Public Health Ethics Analysis series, is a resource for training on public health ethics that alternates presentations on key public health ethics topics with cases from different parts of the world on various ethical challenges that are inherent to the practice of public health and that illustrate how ethics applies to decision making. The book also includes an introductory section for those new to public health ethics.  The Pan American Health Organization will publish the book in Spanish soon.
Resumen
Este libro, publicado en inglés por Springer como parte de la serie Análisis de Ética de la Salud Pública, es un recurso para el entrenamiento en ética de la salud pública que alterna presentaciones sobre los temas más importantes de la ética de la salud pública con casos procedentes de distintos lugares del mundo sobre diversos desafíos éticos que son inherentes a la práctica de la salud pública y que ilustran cómo la ética se aplica en la toma de decisiones. El libro incluye además una sección de introducción a la ética de la salud pública para aquellos que no estén familiarizados con la disciplina. Próximamente la Organización Panamericana de la Salud publicará el libro en español.
How to obtain this report / Como obtener este informe: click here.