Sustainable development and health: trends in indicators and inequalities in Brazil
OPAS/OMS – Representação no Brasil
Published online:  2015
Resumo / Abstract: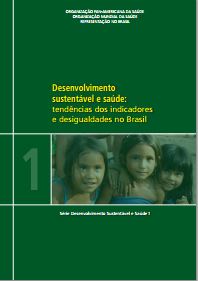 Estudo baseado em 5.565 municípios no Brasil, descreve as tendências de indicadores selecionados nas três dimensões do Desenvolvimento Sustentável (econômico, social e ambiental) e discute inequidades ao longo das últimas duas décadas, com foco na Saúde. Neste estudo, os indicadores selecionados foram analisados ​​em três períodos (1991, 2000 e 2010). A mortalidade infantil foi escolhido como um indicador de saúde (o que também corresponde ao quarto Objetivo de Desenvolvimento do Milênio – ODM 4, Reduzir a mortalidade infantil). Além disso, outros três indicadores relevantes foram analisados: a situação de pobreza como um indicador da dimensão econômico (também relacionada com o ODM 1 – Erradicar a pobreza extrema e da fome); a situação do analfabetismo como um indicador da dimensão social (ODM 2 – Atingir a Educação Primária Universal); e acesso à água como um indicador da dimensão ambiental (ODM 7 – Garantir a sustentabilidade ambiental). O estudo também analisou o Índice de Desenvolvimento Humano (IDH), em nível municipal, mostrando que, enquanto em 1991 não havia brasileiros que vivem em um município com Alto ou Muito Alto IDH, em 2010, 67% da população vivia em municípios com essas condições. Estes resultados fornecem exemplos relevantes para os tomadores de decisão para refletir sobre as realizações na área da saúde e do desenvolvimento sustentável, e a redução das desigualdades no Brasil.
Study based on 5565 municipalities in Brazil, describes trends in selected indicators in the three dimensions of the Sustainable Development (economic, social and environmental) and discusses inequalities over the past two decades, with a focus on Health.  In this study, selected indicators were analyzed in three periods (1991, 2000 and 2010). Infant mortality was chosen as a health indicator (which also corresponds to the 4th Millennium Development Goal – MDG 4, Reduce child mortality). In addition, three other relevant indicators were analyzed: the situation of poverty as an indicator of economic dimension (also related to MDG 1 – Eradicate extreme poverty and hunger); the situation of illiteracy as an indicator of the social dimension (MDG 2 – Achieve universal primary education); and access to water as an indicator of the environmental dimension (MDG7 – Ensure environmental sustainability). The study also analyzed the Human Development Index (HDI) at the municipal level, showing that while in 1991 there were no Brazilians living in a municipality with High or Very High HDI, in 2010, 67% of the population lived in municipalities with such conditions. These results provide examples relevant for decision makers to reflect on achievements in health and sustainable development, and reductions in inequalities in Brazil.
Palavras-chave / Keywords:
Saúde Ambiental; Desenvolvimento Sustentável; Mortalidade Infantil; Equidade, Saúde e Desenvolvimento Humano; Brasil
Environmental Health; Sustainable Development; Infant Mortality; Equity, Health and Human Development
Idioma / Language: Portuguese
Acesso à publicação / Access to the publication: click here.
Contribution by our members. Thank you!